Want to Learn Sign Language? Read this first.
Consistently, "learn sign language" is the top search term that sends internet users to International Language Center's website. It's no secret that St. Louis is home to a large Deaf and Hard of hearing population. The resources are many, but always, qualified American Sign Language interpreters are in demand in the St. Louis metro area. In response to the popular search term, ILC set out to answer a nagging question: Why do people want to learn sign language? There are many benefits of knowing sign language, and individuals use sign language for many reasons. With the help of a month-long survey and an interview with a local sign language interpreter, we set out to answer that question.
The question, you might guess, is not a simple one. Before you learn sign language, it's important to familiarize yourself with the vast and complex Deaf and Hard of hearing cultures. Sign language exists on a wide spectrum, from American Sign Language (ASL) to lip reading (ORAL), deaf-blind interpreting (TACTILE) and more. The needs of a Deaf or Hard of hearing individual depends heavily on that individual's background and upbringing, said Charlene Edwards, a Master Level sign language interpreter for Missouri and Illinois and child of deaf adults (CODA).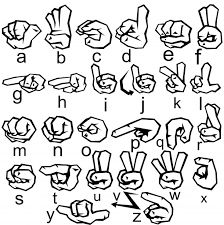 The Deaf and Hard of hearing communities in the St. Louis metro area are themselves split. On the Missouri side of the river, the Oral Deaf community is dominant. This is because, historically speaking, children who were Deaf of Hard of hearing generally learned to lipread, as opposed to communicate via sign language, said Edwards. On the Illinois side of the river is a strong ASL community, where children more commonly attended Deaf schools and learned to communicate via ASL.
American Sign Language is the fourth most common language in the United States, according to the National Institute on Deafness and Other Communication Disorders (NIDCD). The majority of our survey respondents (over 70%) said they want to learn sign language to be able to communicate with people who are Deaf or Hard of hearing. Others said they wanted to learn sign language to communicate with a non-verbal autistic child and to better interact with others in a town with a Deaf school.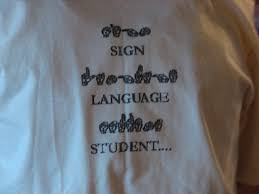 Edwards, in her work as a sign language interpreter, points to a fascination with ASL, Deaf culture and linguistics as a top reason why people might want to learn sign language. Others study to become sign language interpreters because they have grown up with Deaf friends.
Edwards' own motivation for learning sign language is obvious: she is a child of deaf parents.
"Though I am hearing, I have a very rich history in the Deaf world," said Edwards. She has fond memories as a little girl communicating with her mother. "I cherished our 'secret language' that no one knew!" she said.
Today, because of her upbringing and continued training, Edwards counts ASL as her first language and English as her second.
"I am of 2 worlds," she said, "the Hearing and the Deaf. I associate to date with those of the core Deaf community and secondary, the hearing world."
As Edwards can attest, qualified American Sign Language interpreters fill a wide variety of needs. Edwards works as a contract-based sign language interpreter full time, and helps FEMA for disaster work nationwide. She also assists for recovery programs and church services.
Still, she cannot fill every request that comes her way.
"There is a high demand for interpreters now and agencies cannot fulfill the requests," she said.
While Missouri and Illinois both have 5 levels of interpreters, not all states have certified or licensed interpreters. Depending on your motivation to learn sign language, it's important to know your state's guidelines.
Edwards' advice: The first step to learning sign language is knowing basic signs and getting involved in the local Deaf community. Understanding the culture of the community is paramount. To learn more about the Deaf community in St. Louis, check out https://www.deafinc.org/ and the Missouri Commission for the Deaf and Hard of Hearing's resources here.
Sign language is not simply an art form to be admired; it is a language. Before you launch into a sign language course, ask yourself why you want to learn Sign Language. Be specific. Then, with your goal as your guide, use the resources above to help make it happen.
At International Language Center, we are happy to answer any specific questions about sign language you have. Feel free to call us with questions or suggest a class!